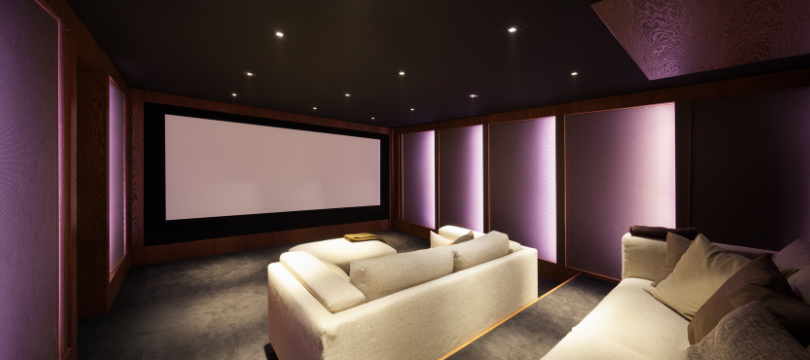 A home theater is often one of the best investments that an individual can make. It not only enhances your overall audio-visual experience but also gives you all the control you require to personalize it to your convenience. However, to enjoy the perks of a home theater to its fullest, it is essential to have top-notch quality equipment; this wouldn't just mean a big, bright screen, a stellar surround sound system, and high-res components, the equipment should also be easy to operate and navigate.
Consolidate Your Controls
A hard-to-navigate A/V gear can result in you losing interest in your entertainment investment. One way to prevent this from happening is to consolidate the controls of all A/V components into one single remote. To further this convenience, you could configure the remote to command other components of your home theater like the shades, room lights, temperature settings, or even a motorized lift that rolls down a projection screen from the ceiling.
To make a home theater all the more appealing, pay attention to not only the special effects but the overall room atmosphere. The perfect balance to strike while setting up a home theater is one where you're comfortable, but are also able to acknowledge the space as one where you can escape and envelope your senses with pure movie magic. The ideal way to go about this would be to combine whole-home automation with your entertainment systems.
Set the scene
Unlike experiencing a movie on your television while you're seated on your couch, where the highlight would be the A/V gear, the experience you have in a home theater is more than just that; the scene you set is pivotal.
You can configure your settings wherein if you press play, the lights in your home theater could slowly fade out, and if need be, have a few lights–like the exit lights, or the step lights– on a dim level so you can find your way in the dark. When the movie is over, or you're leaving your home theater, the lights can slowly ramp up. To add to these basic settings, you could also have a "Clean-up" mode, where your lights are on at full brightness, an "Intermission" mode where the lights gradually come on during breaks, and a "Game Time" mode that lights up the front of the theater so gamers can see their controls as they play.
Curb the Interruptions
No interruptions whatsoever is one of the factors that adds to the immaculate experience of a theater. However, to recreate this in your home theater would mean to cut off from your entire household, and that more often than not will be accompanied by unease in your subconscious.
To tackle this, tie up your surveillance cameras to your home theater setup; this way, you can see what's happening without leaving your seat. Views from the camera can be transmitted to your smartphone, the screen of your television, or even to a portable touch screen. To add to this, you could also install an intercom through which you can communicate with your family members and other visitors.
Share your AV Sources
With an extraordinary set up in your home theater, why skimp on the rest of the house? Many home theater systems are efficient in ways wherein they can transmit their A/V signals from the home theater gear to displays and speakers in other rooms of the house. Share your A/V source to the various other rooms, and enjoy the experience in the place of your choice; by doing so, you can cook up some snacks without missing a scene, host a movie night on the patio, or take the entire scene over to your bedroom; a multi-room A/V setup can make it all possible.
To conclude, a home theatre is truly an investment, but when set up right can offer more than just an extraordinary experience. A home theatre in itself is good enough to keep you from visiting the cinemas, but with these tips and tricks to truly optimize it, you will find yourself spending all your movie nights here!
Considering all the complications that might go into perfectly setting up a Home Theater, these tips might come in handy, however, at Audio and Beyond, we will go up and beyond to bring to you the perfect experience, and this way you can hand over the complications, and sit back and watch us bring the magic alive!